How to Prep Your Home to Host a Big Game Party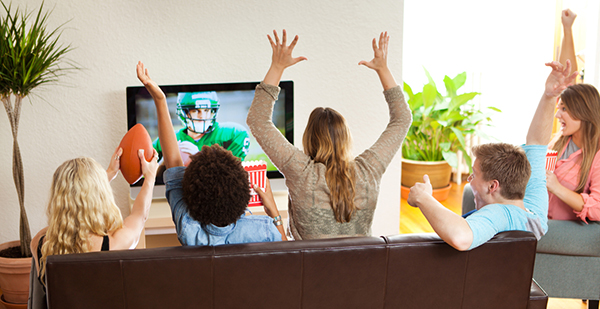 Hosting a Party For the Big Game? Here's How to Prep Your Home
No more junior varsity game nights or guacamole tastings, you've decided to step into the big leagues and host a Big Game viewing party. Over 100 million people watch the game each year (and about 17 million will call off the next day) so you're in good company. If you're worried about throwing a great party, while also protecting your home, here are some tips that can ensure a win for everyone involved.
Quick Takeaways

● Test your technology and make sure you're ready however you watch
● Decorate your home to protect as well as impress
● Double check your insurance
Know how (and where) to watch
Are you a cord cutting streamer, a bunny ears enthusiast, or forever tethered to cable? However you choose to view, have a plan in place prior to the game. If you're trying a new method, make sure the technology works before guests arrive. No one wants to watch you troubleshoot while snacking on pigs in a blanket. The same goes for new TVs, soundbars or other equipment you might want to buy to optimize the viewing experience.
A big event like this also opens up new possibilities to show off your home. If warm weather viewing is possible, a projector and outdoor screen can be a great excuse to enjoy an outdoor space. It's also a great opportunity to unveil a newly finished basement or remodeled kitchen. If you're debuting a new spot, make sure you have enough seating and table space to accommodate your guests and snacks. Even if you'll be watching in a space you use daily, take a fresh look to see if furniture could be rearranged or if you need a few items to round out the space.
It's also never too early to consider spending the offseason undergoing a major remodel. Large scale renovations to your home, whether it's a finished basement or tackling a whole new addition, can be transformative and add new dimensions to your hosting capabilities. Afterall, all great teams go through rebuilding years at some point.
Decorate to impress and protect
You may want to go all out for the game and decorate your home to impress guests, but don't forget to protect your investment as well. To get your guests in the spirit, consider decorating half in one team's colors and half in the others. It gives die-hard fans and casual watchers a fun way to interact. Slipcovers on couches can add to the team spirit and defend the fabric from food and drink spills.
Banners, balloons and streamers add a festive touch that can really liven up any room in your home, but serve a functional purpose too. You can also use these decorations to block off certain areas of your home to maintain privacy in certain areas. Table coverings can be used to protect vulnerable services from spills or damage from heat.
Lastly, ask that fans leave things like face paint or confetti on the sidelines. You'll be lucky to clean those messes up by the start of next preseason.
Be ready to snack smart
The Big Game is one of America's most calorically dense days of the year, right up there with Thanksgiving. Even if you don't want to make one of those ridiculous food trays that look like a stadium, your guests will still be expecting a spread.
If you're looking for an easy route, ordering up pizza and wings is unlikely to disappoint. Americans will consume more than 12 million pizzas during the game. To make sure things time out correctly, see if your local shop permits timed orders. The busiest time to pick up is typically one hour before kick off, so plan accordingly. Also check for specials ahead of time, you may get a deal and those orders are often quicker to create than custom pies.
Got a bit more ambition and want to make your own spread? You might consider asking guests to bring their own unique spin on an in-game favorite. You'll save yourself a lot of cooking (not to mention money) and can rely on guests with food allergies or other dietary restrictions to bring options they can eat. About 2% of adults suffer from a food allergy and the number of adults eliminating gluten from their diets has tripled since 2009.
No matter what you choose to serve, be sure to avoid any food safety fouls. Wash your hands before handling food and keep all serving trays clean. As the game goes on, foods left sitting out can enter dangerous temperature territory. The USDA recommends you limit the serving time for cold food to 2 hours before returning it to refrigerator temps. Hot food must have a source of heating to keep it out of the bacteria danger zone of between 40-140 degrees fahrenheit as well.
Know the vibe
Are you hosting die-hard fans or commercial connoisseurs? Will you be welcoming adults only or are kids coming over? As with any party, a lot depends on the guest list. If it's hardcore fans only, you can let the game itself do much of the work. You don't want distractions, but make sure the Wi-Fi is plentiful so that everyone can check the multitude of apps that demand attention.
If you're hosting more casual fans, or the ones just in it for the commercials, keep people engaged by offering things like football trivia or quiz games about each team's home city. If you're willing to accommodate kids at the party, you'll want to consider separate drinks and snacks as well as some alternate viewing options (Bluey, anyone?).
Review your insurance
It wouldn't be a party without a potential lawsuit, right? It may sound like overkill, but it's important to consider the ramifications of any accidents that could happen while hosting guests in your home. Depending on local laws, things like overconsumption, cracked sidewalks and stairs, even pets or other household hazards could come back to haunt you.
Preparing to host a big event is as good a time as any to check in with your insurance agent to better understand how your coverage would handle any errant celebrations, such as an attempted field goal kick through your front window or worse.
Sources:
https://www.americanpizzacommunity.com/an-estimated-12.5-million-pizzas-will-be-ordered-on-super-bowl-sunday.html
https://www.forbes.com/sites/niallmccarthy/2017/01/17/the-number-of-americans-going-gluten-free-has-tripled-since-2009-infographic/?sh=7886034d32f2
https://www.usda.gov/media/blog/2014/01/30/first-down-food-safety-tips-your-super-bowl-party
Discover Your Mortgage Options
If you're thinking of buying a home or refinancing, we're here to help. Start the loan process from right where you are.